>
World Students' Day
15th of October 2021
"Dream, dream, dream, dreams transform into thoughts. And thoughts result in action."
- Dr A P J Abdul Kalam
World Students' Day is remembered on October 15th. This is to honour the noted educator, scientist and politician Dr A P J Abdul Kalam. In his school years, he was described as being a bright student with average grades. As student he was unable to gain the required result to fulfil his dream of becoming a fighter pilot. However, with persistence and hard work, he went on to become a world-famous scientist and became project director of India's first Satellite Launch Vehicle, co-inventor of a coronary stent and president of India! He was so dedicated to teaching – he returned back as soon as he finished his term as President.
It takes immense determination and perseverance to overcome the challenges of life. Dr Kalam's story is inspirational but there many examples of students who have risen up and succeeded despite being surrounded with dire circumstances or even tragedy. These young people serve as role models to all those who feeling weak and helpless.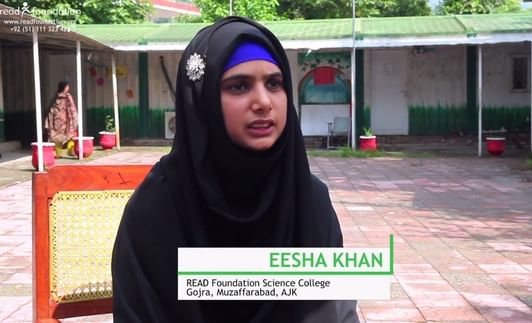 One such case is Eesha Khan, a 1st year student at READ Foundation Girls College Gojra, Muzaffarabad AJK. Eesha fights silent battles everyday to achieve her goals. One of eight siblings, her father passed away in 2006 when she was only three years old – leaving her mother with the difficult job of bringing up all the children on her own.
Today, Eesha's three elder sisters are married, and the remaining four are also studying at READ Foundation schools. Eesha pays tribute to her mother saying "I learnt that if you look up, then you get up". She achieved 1066/1100 in the SSC Mirpur Board Examination session 2018-19 and is very grateful to READ Foundation, its staff, teachers and the unconditional support of donors who have enabled her to pursue her dream of acquiring an education and being an exemplary student.
Eesha has a bright future, and one we hope will go on to change the world.