Entries are now closed. Thanks for your interest, you will hear back in due course.
>
Friendships– get creative and tell us in your own words!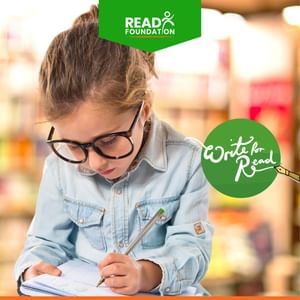 After last year's successful launch, we're back with another Write for READ competition to get your creative juices flowing! More than 300 entries were submitted from all over the UK (and a few from overseas as well!). Our readers and judges were overwhelmed with the quality of your writing and found it extremely difficult to decide on the winners. Thank you to everyone who entered and congratulations to those who won.
We have even more exciting news to work our readers and judges even harder, we've decided to include a KS5 (16-18yr old) category. Our team are looking forward to reading pieces from this age group this time round.
This year we have a new theme for you to write about. Moving past the difficulties of the pandemic and lockdowns, we are looking towards the future in a positive light. Now we're back at school, college, social gatherings, etc., more than ever we realise the impact our friends have had on us these past 18 months. Perhaps we drifted away from certain friends. Maybe we made new friends and socialised with them via platforms like zoom, rather than in real life. Either way a friend is someone you can trust and turn to. Someone who is there for you. This could be a sibling or cousin, someone with the same online interests as you, or even a pet!
This World Children's Day, READ Foundation would like to invite you, our young students to let your reflections and experiences inspire you in writing a short story, poem, play or a magazine/newspaper article about friendships. Get creative and express yourself!
KS1 (5-7yr)
KS2 (7-11yr)
KS3 (11-14yr)
KS4 (14-16yr)
KS5 (16-18yr)
There's also a prize of £150 for the school that submits the most entries, so do mention the Write for READ competition to your school friends and teachers.
The competition is open to all students based in the UK aged 5-18 years of age. Students will need permission from a parent or guardian to enter if they are under 16 years old. Only KS1 entries should be hand written, all other work has to be word processed. Please do not put your name on the document, as the readers and judges need it to be anonymous.
1. Depending on your age, click on one of the links above to access the prompts for your Key Stage.
2. Decide on what you want to write, making sure you follow all instructions carefully. Check the word limit and make sure your name is not written on the entry.
3. Fill out the form below and upload your written piece with the supervision and permission of a parent/guardian if under 18yrs.
4. Share a photo of your written piece amongst friends and family on a platform of your choosing, and encourage others to enter. Share this page and let's get the whole nation writing!
Our team of judges will be looking for entry pieces of either fiction or non-fiction, short stories, poems, etc. which adhere to the prompts above.
Pieces will be marked on creativity, originality and articulation.
For students returning to a new normal, experiences and projects like this one have never been more crucial to help young students find and shape their creative flair and reflect more about the world, life and their own feelings.
We want to hear their thoughts and stories.
Please read these rules carefully before entering the competition. You must have the consent of your parent/guardian to enter if you are under 16.
Entry to the competition is free.
Only 1 entry per student.
Entries accepted from UK residents only between 5-18 years of age. All students, of any background are permitted to take part, whether school going or home schooled.
All entries must be submitted in English (please check the maximum number of words allowed in your KS) and must be the author's original work. Any entries containing offensive speech or material will be disregarded.
Disclaimer: Any extreme political/religious views submitted by entrants do not reflect those of the charity.
KS1 entries must be handwritten (by the child themselves). Entries (including drawings) should be no longer than an A4 page. All entries from KS 2-5 must be word processed.
Entries should be uploaded via the online form below. Only entries submitted through this webpage will be accepted.
No group entries allowed.
Entries will be accepted from midday Friday 20th November until Monday 28th February 11:59pm. Any late entries will be disregarded.
As all entries will be judged anonymously, do not include the writer's name on the page as the entry will become invalid.
The decision of the WRITE for READ judges is final and judging will be as follows:
- A team of readers will assess all submissions and shortlist the top 10 entries from each key stage based on a given criteria.
- The shortlisted entries will be assessed by judges who will each give the entries a score. There will be first, second and third place winners in each key stage.
Details of winners and their entries will be made available on this website in May 2022.
Each winner will agree to take part in publicity for the promotion of the Write for READ Foundation Competition. Full name, photograph and location of winners will be used for press coverage. This is to raise the profile of the young writer and of the competition.
Sumaya Salam
"Writing has always been my passion and as a teacher of nearly 20 years, I have tried to pass that onto my students. I'm a primary school teacher with a specialism in Montessori education. When I was a young girl, there weren't many writing competitions, so take this opportunity and have fun!"
Anna Wells
"During my nearly four decades as a teacher and Head of English, I hugely enjoyed encouraging young people to engage with the creative process. I wholeheartedly believe that reading widely and developing different kinds of writing enrich our personal and intellectual lives."
Najaah Salam
"Currently a student of English Literature and Creative Writing at The University of Manchester. When I'm not reading, watching a film or binge-watching a TV show, I channel my creativity into writing short stories or baking for family and friends."
Primary Judges
Sara Khan
Sara Khan is an International Bestselling Author and Art Director of the popular 'My First' Islamic Board Book Series for toddlers and young children.
She is an Alumni of the School of Arts, Languages and Cultures based at the University of Manchester. She is a cross-cultural communication expert having graduated with a first class BA (hons) in Linguistics and Middle Eastern Languages as well as a Masters in Translation Studies [AR/DE/UK>EN].
She was recently featured in the British Muslim Magazine and also appeared on The today show – the newly launched lifestyle show on Islam Channel.
In her free time, she acts as a Parent Mentor & Mental Health Advocate and supports various charities that cater for wellbeing, support and education of children and orphans around the world.
Ali Lodge
"Hi I'm Ali Lodge and I'm a children's book illustrator and author from Cheshire, UK. I have illustrated a wide range of children's books including reading series titles, pop up and novelty books, picture books and more. I have 2 children aged 12 and 7, and a kitten called Kit. Alongside my artwork I also enjoy writing and have one of my very own picture book stories published. I love reading and I can't wait to read your stories!"
Secondary Judges
Qaisra Shiraz MBE
Qaisra Shahraz MBE, FRSA is the Founder, and Executive Director of Muslim Arts and Culture Festival. She is a critically-acclaimed novelist, scriptwriter, and author of The Holy Woman, Typhoon, Revolt, The Concubine & The Slave Catcher, and translated into several languages. Qaisra won the prestigious National Diversity, Lifetime Achiever Award for services to 'Literature, Education, Gender and Interfaith Relationships' (2016). She gained the University of Salford, Alumni Achievement Award for outstanding contributions to society (2018). She recently gained an MBE award for 'Services to Gender Equality and Cultural Learning'.
Zahid Hussain
Zahid Hussain is the chairperson of UNESCO Manchester City of Literature; he is the founder of Muslim Writers North, the first writing development agency in the UK dedicated to developing Muslim writers for stage, page and screen. He is a novelist (The Curry Mile) and poet (former North-West regional slam champion). He launched Young Shakespeares in 2017 to teach creative writing to young people. In 2018 he wrote the core Made in Manchester poem (today located in the Poetry Library) which is comprised of more than 60 living languages.
16-18 Category
Shahid Iqbal Khan
Shahid Iqbal Khan is a poet and a playwright. He has been part of BBC Writersroom, MacFest and Write To Play. His recent stage plays are Stardust (Belgrade Theatre) and 10 Nights (Bush Theatre). His radio work includes Bhavika, Night of the Living Flatpacks (both on community channels) and Sheltering (BBC Radio 4).
Esther Hudson
"I have worked as an English and Drama teacher for over twenty years. I'm currently tutoring at MMU alongside studying for a PhD in English and Creative Writing. My early career was in theatre, where I worked as an actor, ASM, workshop leader, script editor, marketer, and even as a puppeteer. I have led many creative writing workshops and produced performances of new writing for both children and adults. My current writing project is a historical gothic novel about the relationship between a young woman and a banshee, set in Dublin in 1916. My literary interests are really varied, but I very much enjoy the gothic genre and books inspired by folklore, as well as anything a little quirky or challenging. I love going to the theatre, playing musical instruments badly and cooking for friends and family."
Primary
Sumaya Salam, Teacher, MEd, writer
"There is something delicious about writing the first words of a story. You never quite know where they'll take you." Beatrix Potter
Maryam Khawaja, online Primary Education Teacher
"The only thing that you absolutely have to know, is the location of the library." Albert Einstein
Marion Davies, former Head of English
"Reading is like breathing in and writing is like breathing out." Pam Allyn
Gill Shaw, Teacher of English
"It is not in doing what you like, but in liking what you do that is the secret of happiness." J.M. Barrie, Peter Pan
Secondary
Frida Hussain
Margaret Coupe, former Head of English
"My aim is to put down on paper what I see and what I feel in the best and simplest way." Ernest Hemingway
Margaret Mulheran, former Head of English
"I like it when somebody gets excited about something. It's nice." Holden Caufield. Catcher in the Rye by JD Salinger
Mish Ahmad, BA English Literature and English Language undergraduate
"You're entirely bonkers, but I'll tell you a secret, all the best people are." Lewis Carroll, Alice in Wonderland
Najaah Salam, BA English Literature with Creative Writing (second year)
"A person who has good thoughts cannot ever be ugly." Roald Dahl
6th Form Category
Anna Wells, former Head of English
"If I waited for perfection... I'd never write a word." Margaret Atwood
Peter Wells, former Head of English at 11-18 school
"No matter what people tell you, words and ideas can change the world." Robin Williams