>

International Day of the Girl

11th of October 2021

Today is International Day of the Girl. A special day to acknowledge girls' rights and consider the many challenges they face around the world.

Girls face discrimination and inequalities in many aspects of their lives globally i.e. barriers to education, medical care, and even employment when they get older. In developing countries, they generally have to help their families by doing house chores, looking after their siblings, or even working in farms, while boys are permitted to attend school. Although these expectations are culturally acceptable, they are outdated, girls deserve better.

READ Foundation works hard tearing down those barriers that prevent girls from meeting their potential and promoting gender equality, by providing them with an education, and supporting them and their families.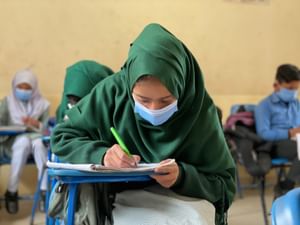 This is Aneesa, she lives with her 2 younger sisters and mother in a village in Pakistan. Her father died in an accident a few years ago, and they had been struggling until READ Foundation stepped in, helping the girls attend school, proving them with all their school resources, and even providing them with food assistance. Aneesa loves attending school and wishes to become a teacher once she completes her education.
READ Foundation believes in girls' potential and what they can achieve in life, by educating them they are building stronger families, communities and economies.