>

Education in Poor Countries

29th of August 2021

The world's poorest people live in East Asia and the Pacific, South Asia, and Sub Saharan Africa. Primary school enrolment in these areas reflects their economic performance.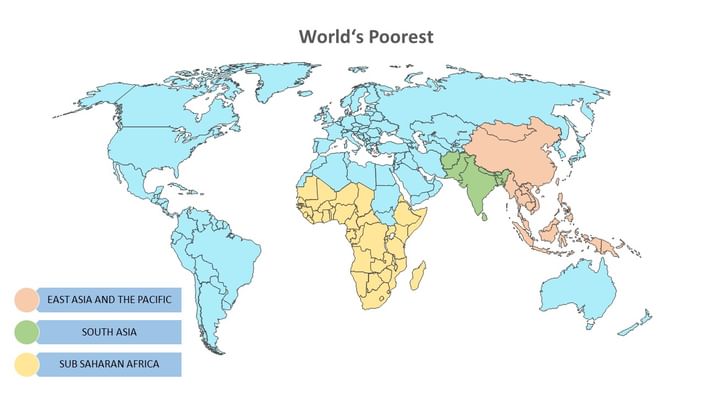 In East Asia, primary school enrolment had gone up to 96% by the year 2015 as explained by the World Bank in the latest data available as of 2020.
In South Asia, only 87% of children were enrolled as of the same year, 2015, however that was a big improvement from the 77% that were enrolled in 1997.
Data for Sub Saharan Africa in not available for the year 2015, but in the year 2009, 75% of primary school children were enrolled in school, which is a huge improvement from the estimated 50% in 1997.
Unfortunately, enrolment in primary schools does not guarantee that children will complete their schooling. Many children drop out for various reasons, including lack of encouragement, financial circumstances and living unreasonably far from the school (having to travel for hours to get to the school). However, as of 2019 almost 99% of students that attended school in East Asia and the Pacific region actually graduated. In the same year, only 90% graduated in South Asia, but only 69% in Sub Saharan Africa. This is a huge improvement from the previous decade.
This data does not mean that Read Foundation's work is over, as many children graduate from primary school without having the basic skills of reading and writing. Children should not only receive an education, but a quality education with tangible results. Children from poor families, or orphaned, female or disabled face greater challenges in accessing schooling, which need to be actively addressed. Mainly in South Asia and Africa, poor families are in such deprived situations that they ask their children to work, through perceived necessity, rather than go to school. Orphans may not have the means, females are generally told to stay at home and look after other siblings, and disabled children are sent by their parents to beg on the street.
The problems are compounded and twofold, supply and demand. Many communities do not have access to schools, trained teachers and even resources and equipment. In terms on demand, as mentioned above, some families may not see the benefits of an education when they have other basic needs to meet, i.e. food. When they do not have enough money for food or shelter, they can obviously not afford school supplies, clothing and transportation.
Case study:
This is Nadira Begum's family. She is a mother of 5, a widow, trying to make ends meet and provide a decent live for her family. They live in a small village in the district of Bagh, in Pakistan. Her husband died in a traffic accident a few years ago, and they have been struggling ever since. Without READ Foundation's help, she wouldn't have been able to provide for her family, let alone send them to school. Read assist them with food packages and sponsor four of her children to attend school, with all their expenses paid. The children also help their mother with house chores, cleaning, cooking, chopping wood, washing clothes, etc. Nadira's hope for her children's future is for them to study and become professionals in a field so that they can live a comfortable live, and help their community.
READ Foundation works hard to address these issues, from reaching the most neglected communities and giving them a chance to change and improve their lives by building schools for them, covering the poorest families' expenses, and providing better facilities and teacher training where needed.